Always Ready in the ICU
You can't trust your ICU patients' or nurses' safety to just any bed. So we designed the Progressa+ true ICU Bed to help you face your challenges with confidence.

Protect
Help prevent pressure injuries with surfaces designed to help protect patients' skin integrity.1

Breathe
Help patients breathe easy with in-bed pulmonary therapies designed to help prevent pulmonary complications.1

Move
Get patients moving early and often with support for the latest early patient mobility protocols.1
Meet a True ICU Bed for Your True ICU Reality

We designed this true ICU bed to help address the unique challenges you face every day in the ICU. Watch what makes it always ready to support you, so you're always ready to support your patients.
Protect Patients' Skin From Hospital-Acquired Pressure Injuries

Immobile patients are at higher risk for skin breakdown.2 Help protect your patients' skin and reduce the burden on your clinicians with the Progressa+ bed.
Help prevent hospital-acquired pressure injuries with advanced surfaces that manage heat, moisture, pressure, shear and friction1

Simplify patient positioning with a bed that helps prevent sliding, adjusts for each patient's height and helps clinicians turn patients with the press of a button1

Take time- and energy-consuming tasks off your clinicians' minds, so they can focus where they're needed most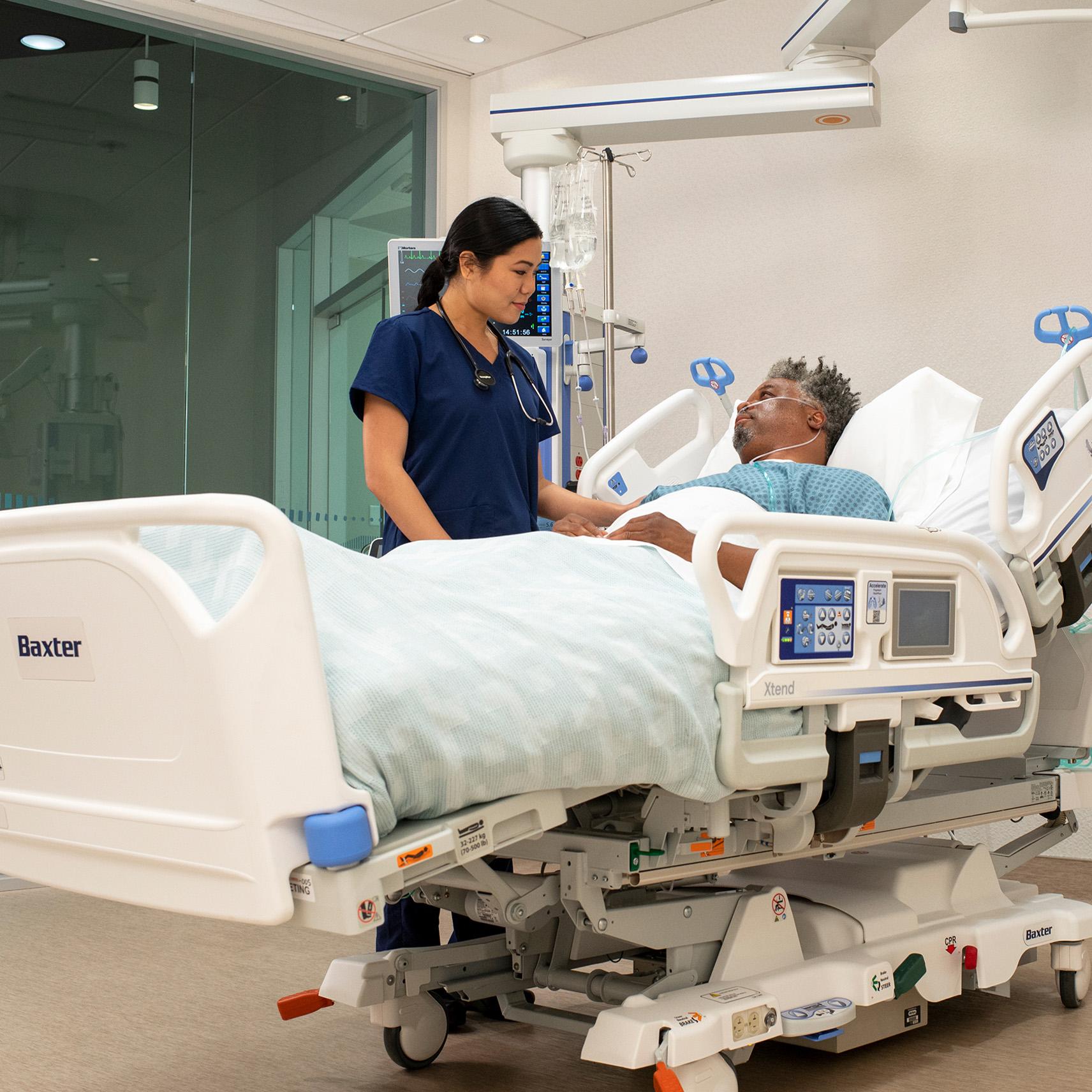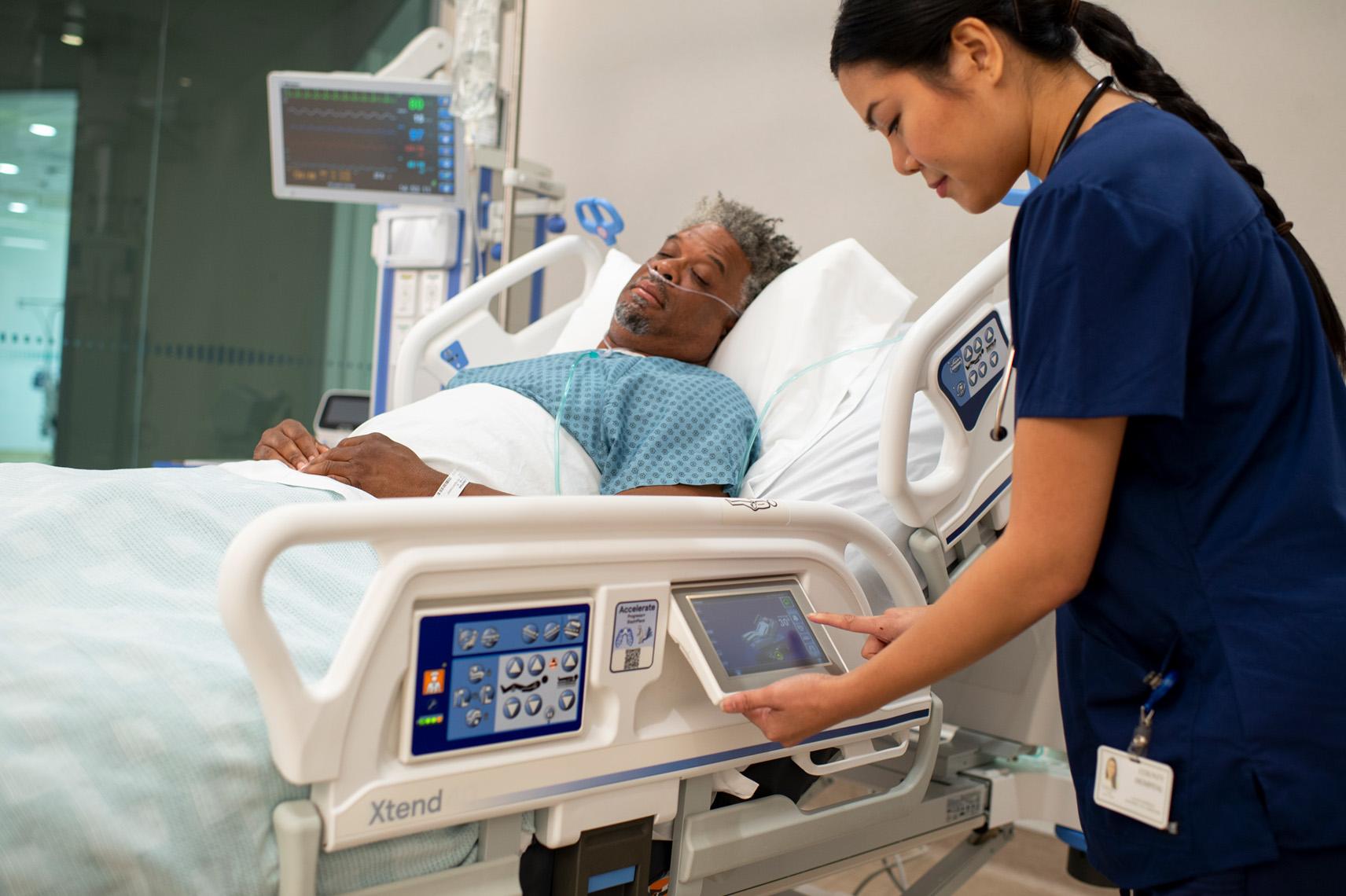 Breathe Easy With In-bed Pulmonary Therapies

Long periods of immobility are common in the ICU, making pulmonary complications top concerns.3,4 The Progressa+ bed supports therapies and protocols to help combat these issues — without additional devices or more clinicians called to the bedside.
Deliver pulmonary therapies like Chest Physiotherapy and Continuous Lateral Rotation — in bed, with the press of a button.
o Percussion & vibration
o Continuous lateral rotation

Support proning orders and protocols with an easy-to-attach accessory that provides uninhibited access to the patient's face
Help clinicians deliver respiratory therapies with no additional devices and no additional clinicians required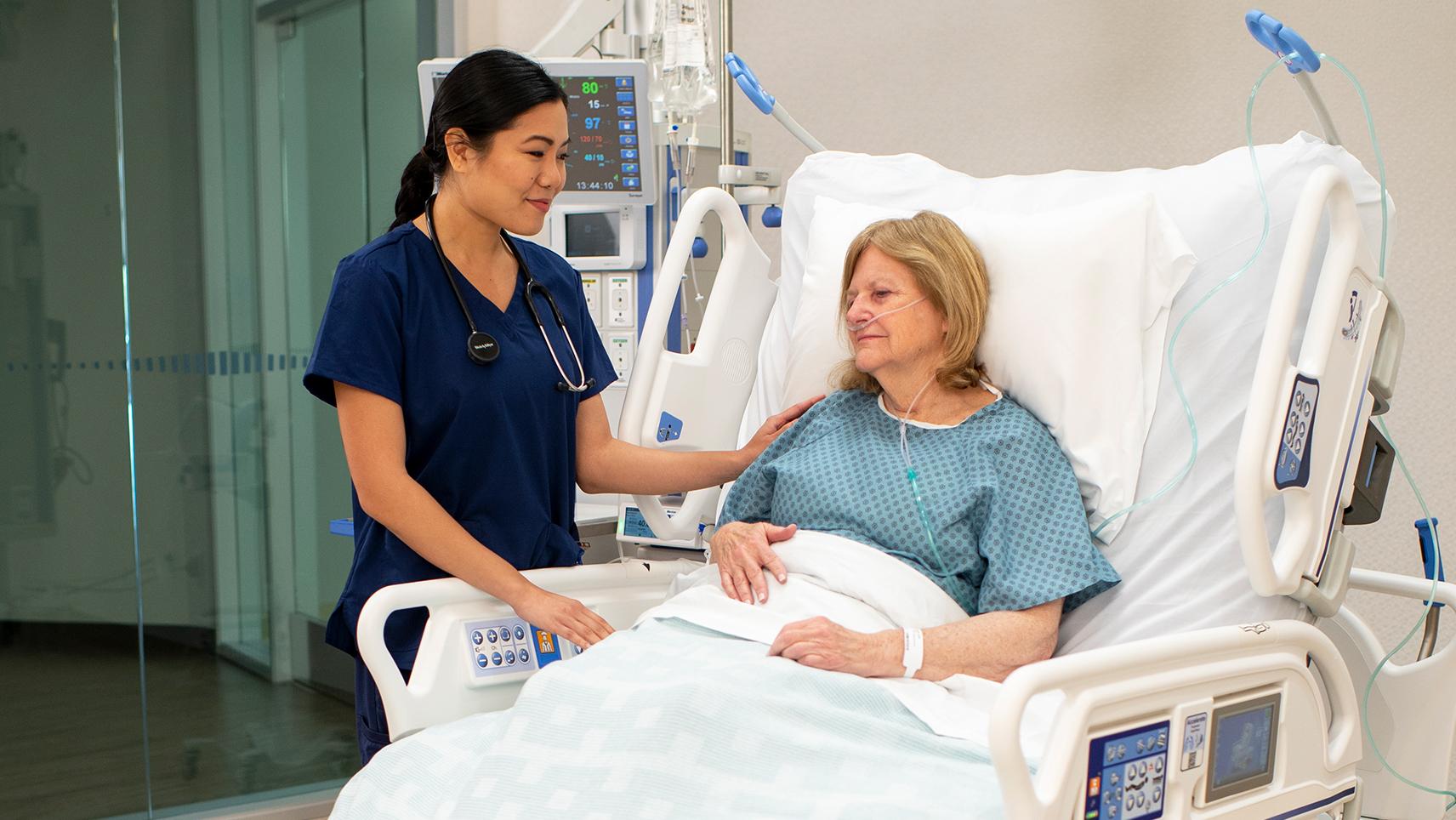 Move Patients Early and Often with Safe Patient Mobility Support
In the ICU, mobility is key to stability. Mobility protocols are proven to reduce both ICU length of stay and the number of ventilator days.5 Get your patients moving earlier and often — while reducing strain on clinicians — with an early mobility protocol and the Progressa+ bed.
Help patients safely stand with the one-button FullChair position with sit-to-stand option.
Tap into our clinically proven Early Mobility Program, helping patients get moving earlier and stabilize more quickly6
Protect clinician safety by helping them mobilize patients without heavy or unsafe lifting
Surfaces That Do More (So You Can, Too)
What if your surfaces could help you deliver the right care for each patient? With the Progressa+ True ICU Bed, you can choose the surface that fits your patients' needs — and your workflows.
Essential
Nonpowered Surface
Delivers consistent pressure redistribution, comfort and envelopment1
Advance
Integrated Powered Air Surface
All the benefits of the Hillrom Progressa+ Essential surface, plus more advanced features designed to help prevent and manage skin breakdown1
Accelerate
Integrated Powered Air Surface
All the benefits of the Hillrom Progressa+ Advance surface, plus more advanced features designed to help treat and prevent pulmonary complications1
this text should be hidden
this text should be hidden
this text should be hidden

Progressa+ True ICU Bed In-Service Video
this text should be hidden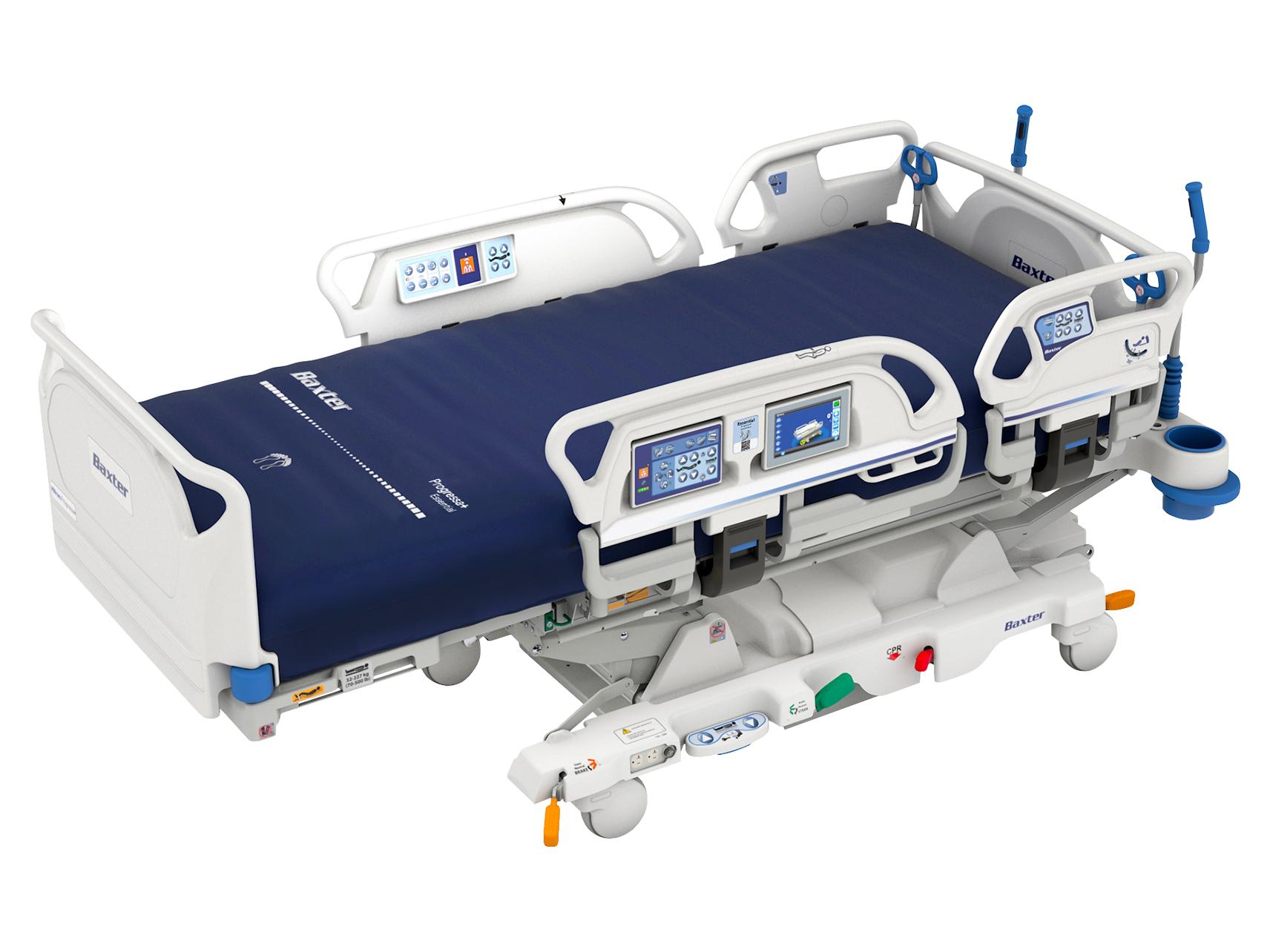 You're There For Your Patients in the ICU. We're Here For You.

Dive deeper into how the Progressa+ true ICU bed addresses many of today's leading critical care challenges. Then see how we're reaching across our portfolio to support patients and clinicians in the ICU.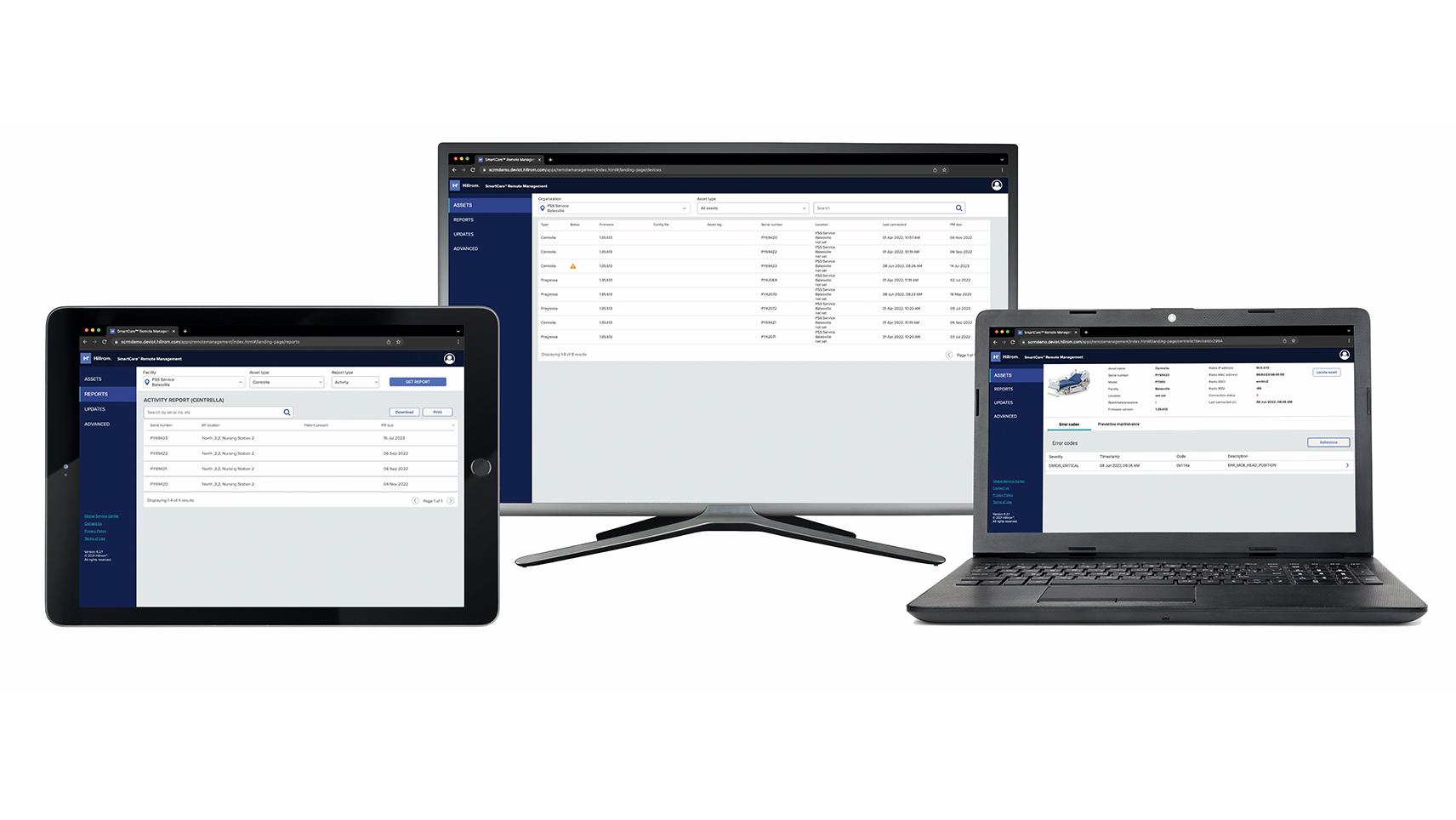 Monitor Your Smart+ Beds With Remote Service

Now available with Servinity Remote Management